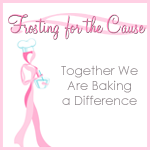 I came across Frosting for the Cause through another food blog (Crazy for Crust).  Frosting for the Cause is a "project of Cookie and Cupcake Makers & Decoraters from Across Canada and the Unite States."  Their motto is "together we are baking a difference in awareness and research of cancers affecting women."
Their goals are:
to have 365 bakers and bloggers from across Canada and the US to bake a delicious treat and share the recipe in a guest post at Frosting for the Cause,
each baker will also share a personal story with Frosting for the Cause about a women in their life who has had to deal with cancer,
each baker will share their treats with a local Women's Hospice or Cancer Society office,
each baker will donate $25 to the Canadian or American Cancer Society raising a total of $9,125.
So on November 25th (right after mt favorite holiday), I will be sharing a special creation and telling you all about a pretty incredible woman at Frosting for the Cause.  I hope you'll join me there.